In Autumn 2018 the Environmental Audit Committee wrote to sixteen leading UK fashion retailers, among them M&S, ASOS and Boohoo, asking what they are doing to reduce the environmental and social impact of the clothes and shoes they sell. Today they released their Interim Report on the Sustainability of the Fashion Industry.
Fashion Revolution welcomes the UK Environmental Audit Committee's findings of their inquiry into the sustainability of the fashion industry. We too want to see a thriving fashion industry in the UK that employs people, inspires creativity and contributes to sustainable livelihoods in the UK and around the world. We agree with the Environmental Audit Committee's conclusion that the global fashion industry is exploitative and environmentally damaging and that brands and retailers have an obligation to address the fundamental business model.
This report states "We believe that there is scope for retailers to do much more to tackle labour market and environmental sustainability issues. We are disappointed that so few retailers are showing leadership through engagement with industry initiatives."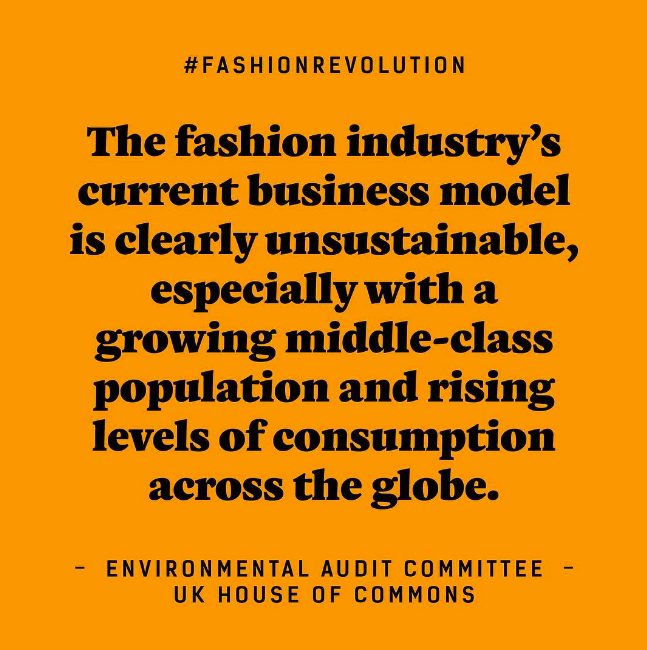 Fashion Revolution believes that fashion brands and retailers should sign up to pledges and multi-stakeholder initiatives which are working towards improving workers' rights, paying a living wage and striving towards a closed loop system. They should also use our Transparency Index as a tool to disclose more about their social and environmental policies, practices and impact both within their companies and throughout their supply chain.
The Committee believes that "The fashion industry's current business model is clearly unsustainable, especially with a growing middle-class population and rising levels of consumption across the globe. We are disappointed that few high street and online fashion retailers are taking significant steps to improve their environmental sustainability".    Brands are criticised for inadequate sustainability actions and initiatives. The report concludes that recycling waste and complying with the Government's Carbon Reduction Commitment is not sufficient to offset the environmental damage caused by the fashion industry.
We believe that the fashion industry in the United Kingdom and globally needs far reaching systemic change in order to tackle poverty, inequality and environmental degradation and greater transparency is the first crucial step towards solving its human rights and environmental crises. Our Fashion Transparency Index research has shown that some major brands and retailers are making significant efforts to tackle these issues in their companies and across their supply chains, whilst at the same time far too many large brands and retailers are turning a blind eye. Increased transparency means issues along the supply chain can be identified, addressed and remedied much faster. Greater transparency also means best practice examples, positive stories and effective innovations can be more easily highlighted, shared and potentially scaled or replicated elsewhere.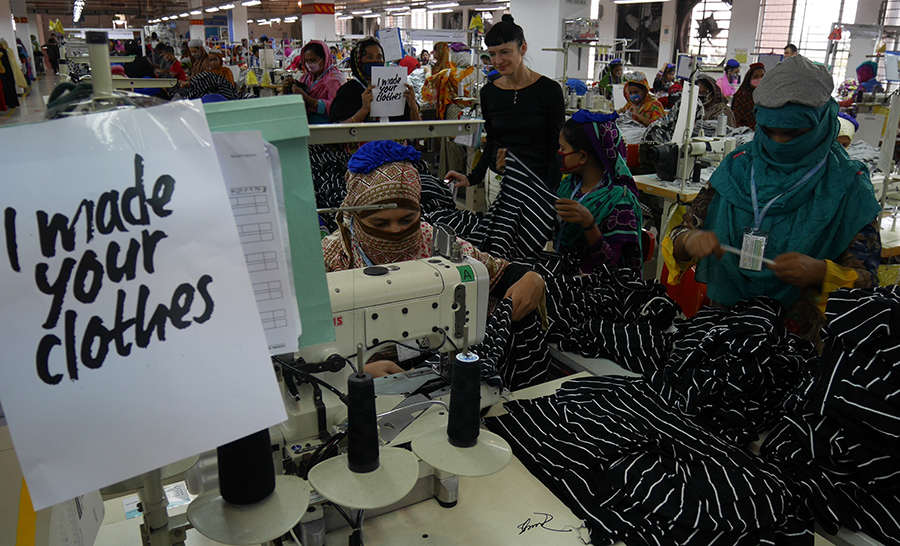 In an Ipsos MORI survey of 5,000 people across the five largest EU markets published by Fashion Revolution in November, consumers told us they want to know more about the social and environmental impacts of their garments when shopping for clothes and they expect fashion brands and governments to be doing more to address these issues. 77% strongly/somewhat agree that fashion brands should be required by law to respect the human rights of everybody involved in making their products, 75% strongly/somewhat agree that fashion brands should be required by law to protect the environment at every stage of making their products. The majority of people surveyed believed governments should be responsible for holding fashion brands to account for disclosing information about the way their products are made, what suppliers they are working with and how they're applying socially and environmentally responsible practices in their supply chains.
It is clear that greater government intervention will be necessary if companies are to be held to account for the impacts of their practices on people's lives and the environment. We want the U.K. Government to pass mandatory due diligence laws, building upon the recent regulatory examples in France and Switzerland. Ultimately, if the UK Government is serious about improving human rights, social impacts and environmental sustainability in the fashion industry, then it must rewrite the rules of the economy so that shareholder profit is no longer prioritised above the protection of our ecosystems and the health and wellbeing of our communities.